NiftyReg
From CMIC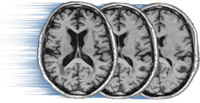 NiftyReg is an open-source software for efficient medical image registration. It has been mainly developed by members of the Centre for Medical Image Computing at University College London, UK.
The source code is hosted on SourceForge and the git repository can be accessed from this page.
You can find installation instruction for multiple platforms on the install page.
A few tutorials describing how NiftyReg can be used are available on this page.
Note
We are currently in the process of refactoring NiftyReg to use a platform based architecture to enable to use either a CPU-, CUDA- or OpenCL-based implementation.