Why is research important? What's the end result of this activity? How can this help me or people with my condition in the future?
These were just a few of the questions we heard from the visitors at our stall last week. The fourth annual research open day at University College London Hospital (UCLH) took place on 4th of July and attracted hundreds of visitors, with more than 40 interactive booths and countless medical technologies on display.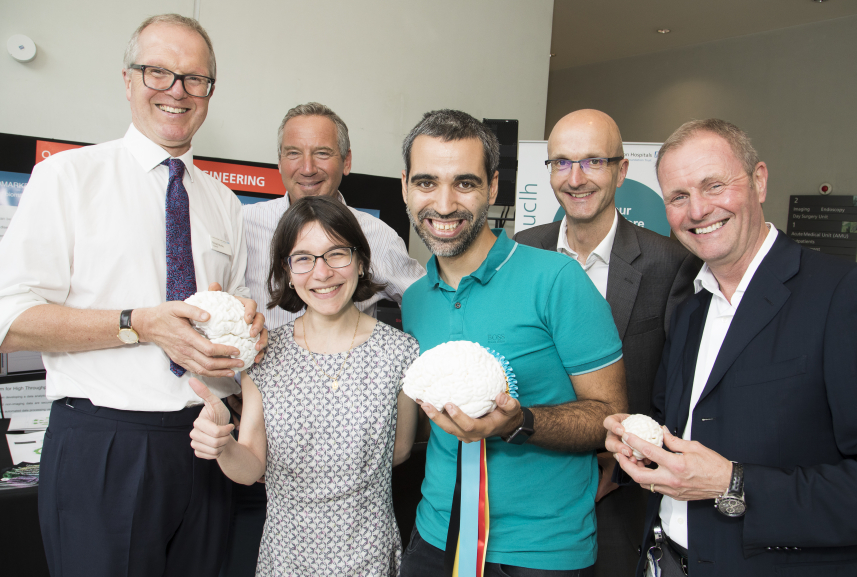 We were pleased to participate and share the story of our imaging brain biomarkers research which is aligned with the Healthcare Engineering and Imaging theme from the NIHR UCLH Biomedical Research Centre. In order to shine a light on the innovations in this field, the team put together a display including brain images from MRI scans, clinical reports and 3D printed brain models, then waited for the public to arrive. These imaging demonstrations drew the attention of the visitors, as well as of the jury who awarded the stall the prize for the best research stand!
We were glad to share our vision and discuss in detail the impact of our research on the next generation of imaging biomarkers. Our work aims to extract biologically meaningful measurements from medical images, transforming how they are used for clinical research and clinical practice.
Adding a precise quantitative evaluation to the standard qualitative assessment (i.e. to the reports developed after analyzing the scans) can lead to superior diagnostics and better-targeted research trials. Extracting numbers from the images in an automated manner supports clinical assessment and enables a more detailed and standardized approach. This quantitative assessment will also help researchers select suitable subjects for clinical trials, implement population research and contribute towards the development of personalized medicine.
Explanations on the big picture of the research impact complemented the brain images on the stall's screens. Sharing knowledge about the new imaging technologies was just as exciting as seeing our visitors examine the 3D printed brain models or trying to decipher the clinical reports.
Thank you all for passing by and we hope to see you at the next research open day at UCLH. Should you want to learn more about the research and healthcare engineering and imaging, please visit the webpage of the biomedical research centre.