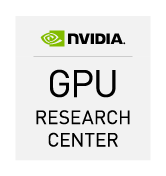 UCL today announced that it has been named a GPU Research Centre by NVIDIA following a successful campus-wide application.
UCL was recognised for its advanced research in a wide variety of areas, including bio-molecular modeling for cancer research, vascular imaging and magnetic resonance physics, computational systems biology, tsunami modeling, image registration, finite element modeling and image guided surgery, to name a few.
In addition, as a member of the SES (Science and Engineering South) consortium, a world-leading science and engineering research hub formed by 5 leading research-intensive universities, UCL researchers have access to the EMERALD GPU cluster, one of the largest in Europe (see some case studies).
Researchers across campus came together to put in a UCL-wide bid, with the application led by Dr Matt Clarkson (Translational Imaging Group, Centre for Medical Image Computing), Dr James Hetherington (UCL Research Software Development Group), Daghan Cam (UCL Bartlett School of Architecture) and Prof Sebastien Ourselin (UCL Institute of Biomedical Engineering).
GPU-accelerated computing is the use of a GPU together with a CPU to accelerate scientific, analytics, engineering, consumer, and enterprise applications. Computational scientists have used the dramatic performance increases provided by accelerated computing to tackle the research computing challenges of the 21st century.
Matt Clarkson, Lead PI on the application, comments: "This is an exciting opportunity to bring together researchers across college with world leading expertise at NVIDIA, and drive forward our research, right from the grass-roots algorithmic level through to end-user applications."
As a GPU Research Centre, staff at UCL will have pre-release access to NVIDIA GPU hardware and software, the opportunity to attend exclusive events with key researchers and academics,a designated NVIDIA technical liaison, and access to specialized online and in-person training sessions. GPU Research Centres were formerly known as CUDA Research Centres.
For more information on how to access these benefits, please contact James Hetherington (j.hetherington@ucl.ac.uk).
Links:
UCL Bartlett School of Architecture
Centre for Medical Image Computing