We are pleased to congratulate Juan Eugenio Iglesias for winning the Best Poster Award at the Information Processing in Medical Imaging (IPMI) conference 2017 for is work on "Globally Optimal Coupled Surfaces for Semi-Automatic Segmentation of Medical Images". This award was shared with Adrian Dalca et al's poster on "Population Based Image Imputation".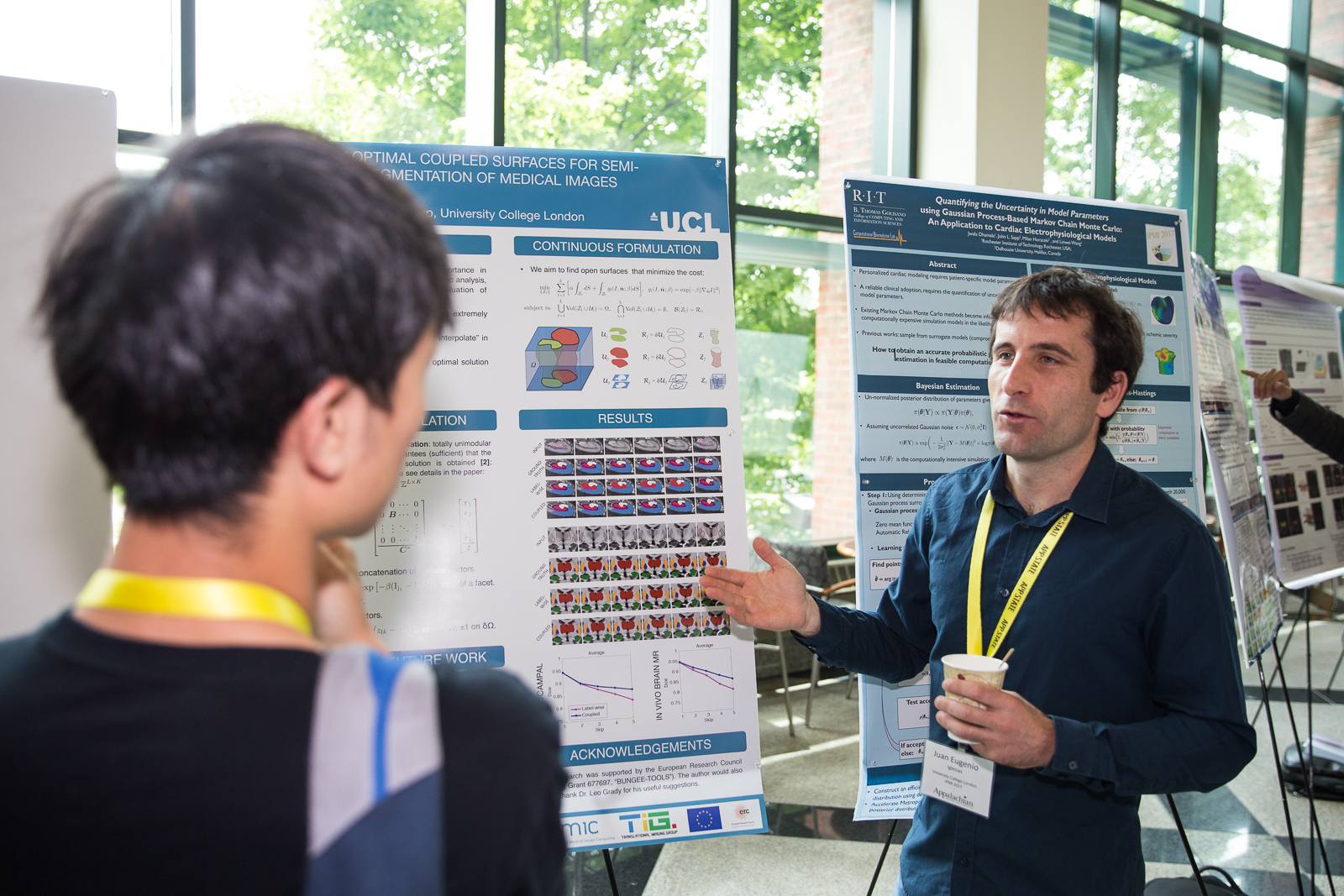 Eugenio joined the Translational Imaging Group (TIG) in 2016 as European Research Council (ERC) Senior Research Fellow. His ERC funded project uses ex vivo imaging data to build computer models of human brain anatomy.
By using ex vivo brains he is able to produce images with a far higher resolution as there is no motion from the subject, which is usually the main limitation of MRI scans. He then performs histological analysis on the brains by slicing them and staining the samples to analyse under a microscope, yielding a strong contrast between brain structures.
By combining information from both the MRI images and histology, Eugenio is able to form a highly accurate atlas of the human brain. These models of brain anatomy can then be applied as an automated tool to analyse in vivo MRI scans of patients, enabling a greater level of precision and detail than current neuroimaging software packages.
The poster that Eugenio presented at IPMI specifically focused on finding a more efficient method to perform the histological analysis. The current process is fairly time- consuming as it requires a human expert to manually label all the brain structures of interest on the ex vivo images. As the brain is being segmented into extremely thin histological slices, parallel sections are very similar to label to one another and it would be far less labour-intensive to develop an algorithm that could automatically interpolate the slices between set points. Eugenio's research poster presented a discrete formulation that is able to interpolate between histological sections in this way, and showed some of his results from trialling this new method.
The IPMI conference in June 2017 marked the 25th biennial international conference on Information Processing in Medical Imaging and was Eugenio's third time attending. Due to the attendees that it attracts and the relatively small size of the conference (~100) it is renowned for encouraging strong scientific exchanges and collaborative relationships within the field of biomedical imaging.