BrainMiner were awarded UCLB's One-To-Watch Award at UCLB's Annual Summer Reception on Tuesday 20th June 2017.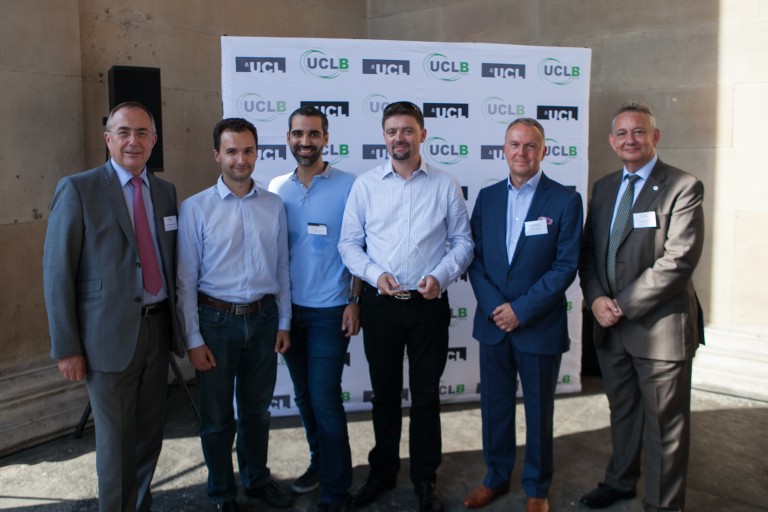 BrainMiner is an innovative imaging solution provider established by Professor Sebastien Ourselin, Dr M. Jorge Cardoso, and Dr Marc Modat following successful research collaborations between the Translational Imaging Group (TIG), the Department of Neuroradiology (National Hospital for Neurology and Neurosurgery) and the Dementia Research Centre (UCL Institute of Neurology).
Using new research and expertise in quantitative neurological imaging being worked on within TIG, they are developing software that provides automated analysis and interpretation of patient brain scans. Through this they aim to enable quicker and more accurate diagnosis of Alzheimer's and other forms of dementia.
Current diagnosis of dementia through MRI scans involves radiologists visually analyzing MRI images for signs of structural or volume change to the brain. The process is time-consuming and is reliant on the idea that the radiologist's own qualitative assessment will not miss any small changes. BrainMiner hopes to assist radiologists and neurologists in improving the diagnostic process, making it more accurate, timely and cost-effective.
The software automatically and intelligently analyses MRI images to provide accurate volumetric information around key brain structures. Improved diagnosis will allow patients to receive earlier treatment for their symptoms, helping them live independently for longer. A prototype of BrainMiner is currently being trialled at University College Hospital.
BrainMiner Ltd is a spin-out company of UCL Business, who support and commercialise research and innovations arising from UCL.