While Magnetic Resonance Imaging (MRI) provides high-resolution anatomical information, Positron Emission Tomography (PET) provides functional information. The combined images have applications in neurology, oncology, or cardiology. In collaboration with S. Arridge, D. Atkinson and the UCLH Institute of Nuclear Medicine (B. Hutton), we are developing tools to reconstruct and analyse data acquired by simultaneous PET/MRI scanners.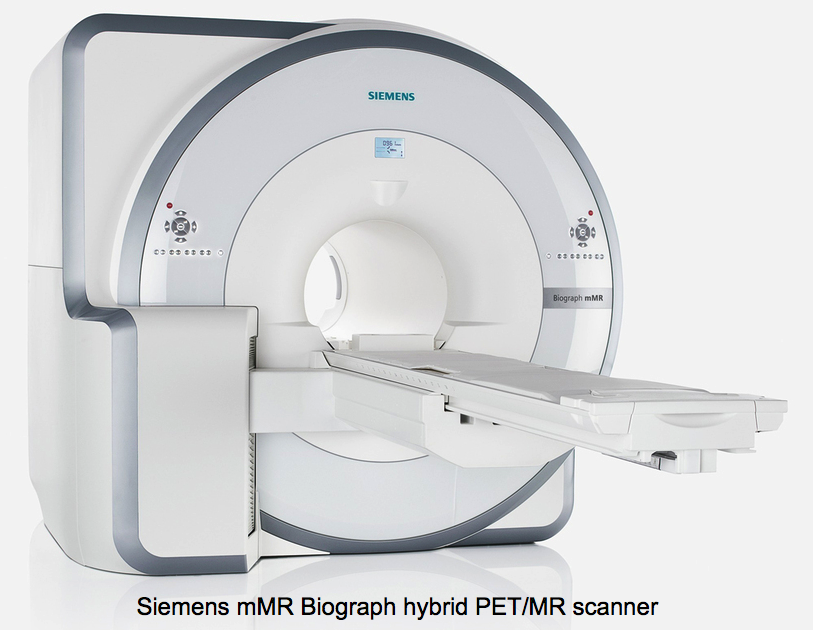 One of the main advantages of PET/MR scanners compared to PET/CT systems is the reduced ionising radiation received by the patient. Another one is that PET/MR scanners not only provide high-resolution anatomical images with high soft-tissue contrast, but also functional information. As PET and MR are acquired simultaneously, the patient's physiological state is identical for both modalities, which allows dynamic PET/MR studies and new opportunities to correct for motion. However, PET/MR scanners can be challenging. The main challenge concerns the attenuation correction. Attenuation is defined as the reduction in intensity of the electromagnetic radiation as it travels through a medium and interacts with matter. Photons emitted from the centre of the patient will be more attenuated than the ones emitted in the periphery, which results in an underestimation of the radionuclide uptake in the centre of the PET image. In the absence of a transmission source, CT image or time-of-flight PET, the attenuation information can only be derived from MRI images. However, MRI image intensities do not reflect the electron density, which prevents a direct estimation of the attenuation coefficients.
Within TIG, our work is articulated around four components: the attenuation and motion corrections of PET data, allowing a more accurate kinetic modelling, gathered in a reconstruction framework.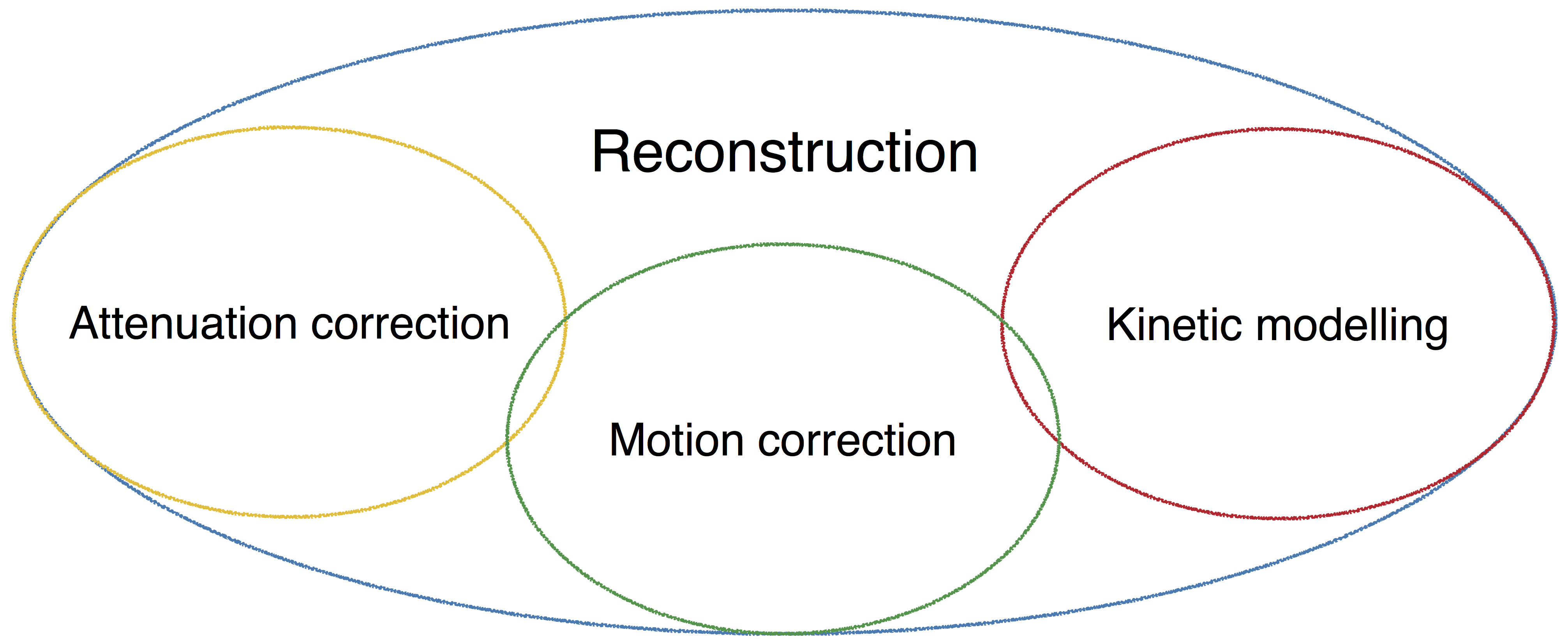 Attenuation correction
Attenuation correction is an essential requirement for quantification of PET data. In PET/CT acquisition systems, attenuation maps are derived from Computed Tomography (CT) images. However, in hybrid PET/MR scanners, MRI images do not directly provide a patient-specific attenuation map. Our approach is to synthesise a CT from an MRI image. The synthetic images are generated through a multi-atlas information propagation scheme, locally matching the MRI-derived patient's morphology to a database of MRI/CT pairs, using a local image similarity measure.

From left to right: The acquired T1-weighted MRI, CT and FDG PET, and the synthetic CT and PET generated by our proposed CT synthesis method.
Joint kinetic modelling and motion correction of dynamic PET data
Kinetic modeling of dynamic PET data allows for the quantification of the underlying biological/physiological processes for disease understanding and drug development. We developed a unified framework to address two of the fundamental problems, namely subject motion and noise statistics to improve the pharmacokinetic analysis for clinical decision making.

Improved identification of brain tumour on [19F]Choline scan

Reconstruction
The platform which is here being developed for mMR 3D and 4D PET image reconstruction is fully adjustable to obtain optimal images for a given research task in PET imaging. It uses iterative reconstruction methods, which have the ability to include more sophisticated models of the PET acquisition process.
These reconstruction methods require computationally costly forward and back projections from the image to projection space and vice versa using integrals along any given pair of detectors. Since there are many such independent forward and back projections, parallel computing architectures based on graphics processing units (GPUs) are employed, allowing very fast implementations.
The reconstruction pipeline involves:
Conversion of the Siemens Dicom files to the interfile format,
Histogramming the emission data,
Component-based normalization,
Estimation and correction for attenuation and scatter using atlas based-maps,
Correction for randoms,
Iterative image reconstruction.

Publications
2015
Ninon Burgos, M. Jorge Cardoso, Kris Thielemans, Marc Modat, John Dickson, Jonathan M. Schott, David Atkinson, Simon R. Arridge, Brian F. Hutton, and Sébastien Ourselin: Multi-contrast Attenuation Map Synthesis for PET/MR Scanners: Assessment on FDG and Florbetapir PET Tracers. European Journal of Nuclear Medicine and Molecular Imaging, 42(9): 1447-1458, 2015
Jieqing Jiao, Pawel Markiewicz, Ninon Burgos, David Atkinson, Brian Hutton, Simon Arridge, Sebastien Ourselin: Detail-Preserving PET Reconstruction with Sparse Image Representation and Anatomical Priors. Information Processing in Medical Imaging. LNCS 9123 pp. 540–551. 2015
Ninon Burgos, M. Jorge Cardoso, Alex F. Mendelson, Jonathan M. Schott, David Atkinson, Simon R. Arridge, Brian F. Hutton, and Sébastien Ourselin: Subject-specific Models for the Analysis of Pathological FDG PET Data. MICCAI 2015, LNCS 9350, pp. 651-658, 2015
Pawel Markiewicz, Kris Thielemans, David Atkinson, Simon Arridge, Brian Hutton and Sebastien Ourselin: Rapid workflow of mMR PET list-mode data processing using CUDA, EJNMMI Physics, 2(Suppl 1):A42, 2015
Ninon Burgos, M. Jorge Cardoso, Marc Modat, Shonit Punwani, David Atkinson, Simon R. Arridge, Brian F. Hutton, and Sébastien Ourselin: CT Synthesis in the Head & Neck Region for PET/MR Attenuation Correction: an Iterative Multi-atlas Approach. EJNMMI Physics, 2(Suppl 1):A31, 2015
2014
Ninon Burgos, M. Jorge Cardoso, Kris Thielemans, Marc Modat, Stefano Pedemonte, John Dickson, Anna Barnes, Rebekah Ahmed, Colin J. Mahoney, Jonathan M. Schott, John S. Duncan, David Atkinson, Simon R. Arridge, Brian F. Hutton, and Sébastien Ourselin: Attenuation Correction Synthesis for Hybrid PET-MR Scanners: Application to Brain Studies, IEEE TMI, 2014
Jieqing Jiao, Alexandre Bousse, Kris Thielemans, Pawel Markiewicz, Ninon Burgos, David Atkinson, Simon R. Arridge, Brian F. Hutton, and Sébastien Ourselin: Joint Parametric Reconstruction and Motion Correction Framework for Dynamic PET Data, MICCAI 2014
Pawel Markiewicz, Kris Thielemans, Ninon Burgos, Richard Manber, Jieqing Jiao, Anna Barnes, David Atkinson, Simon R. Arridge, Brian F. Hutton and Sébastien Ourselin: Image reconstruction of mMR PET data using the open source software STIR, PSMR 2014
Ninon Burgos, M. Jorge Cardoso, Kris Thielemans, John S. Duncan, David Atkinson, Simon R. Arridge, Brian F. Hutton, and Sébastien Ourselin: Attenuation Correction Synthesis for Hybrid PET-MR Scanners: Validation for Brain Study Applications, PSMR 2014
2013
Ninon Burgos, M. Jorge Cardoso, Marc Modat, Stefano Pedemonte, John Dickson, Anna Barnes, John S. Duncan, David Atkinson, Simon R. Arridge, Brian F. Hutton, Sébastien Ourselin: Attenuation Correction Synthesis for Hybrid PET-MR Scanners, MICCAI 2013