Researchers from the Royal National Orthopaedic Hospital (RNOH) and the Translational Imaging Group presented innovative new findings in orthopaedic research to an audience of 30,000 at the annual meeting of the American Academy of Orthopaedic Surgeons last week.
Professor Alister Hart's 10 strong research team from RNOH presented a total of 24 papers at the back-to-back meetings of the conference, which was held in Las Vegas, US, Tuesday 24th March – Saturday 28th March. The new findings included: a new blood test for measuring corrosion of orthopaedic implants; the reason for failure of recalled implants; and a novel low radiation dose CT method. The centrepiece of their work is a collaboration with the Translational Imaging Group.
Together, both RNOH and TIG teams have created software which automatically measures 3D muscle volume using standard MRI scans, and are the first to validate and apply this software to patients with muscle problems. The software was originally developed to measure the volume of cerebral cortex from MRI which has revolutionised clinical trials in dementia by providing a quantifiable measure of brain atrophy.
"The results of measuring muscle volume were astonishing. The software improved our understanding of hip and knee problems and generated 3D images that can be used to easily explain the problem to patients." commented Professor Alister Hart, "We now have a new tool to assess human physical function. In minutes we can measure automatically the 3D muscle volume of individual muscles. This opens up a whole new field for patients, athletes, in fact anyone who is interested in their muscles."
The software can be used to measure the effect of any intervention on human muscles, such as "What are the best surgical techniques to conserve muscles?", "Which Pilates techniques are best for strengthening our core muscles?", "Which artificial legs and rehabilitation techniques are best for injured soldiers?", "Which sports are best for our muscles?"
The team first chose patients with hip problems but will now turn to address problems of the muscles around the spine, shoulder and knee.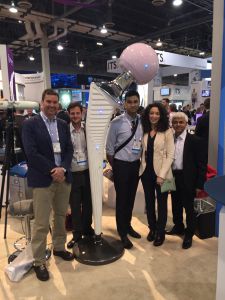 Some of the members of the research team from the Royal National Orthopaedic Hospital pictured at the conference, R-L: Alister Hart, Robert Whittaker, Harry Hothi, Anna D Laura and Jay Meswania.
Related Links:
https://www.rnoh.nhs.uk/home/news/innovative-orthopaedic-software-unveiled
https://www.youtube.com/user/RNOHnhs/videos