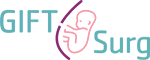 GIFT-Surg was recently featured by Al Jazeera England, in a news item covering the cutting edge technology being developed between UCL and KU Leuven. The report, produced and narrated by Jessica Baldwin, covers how this cross-disciplinary research project, funded by the Wellcome Trust and EPSRC, aims to develop novel surgical tools and imaging methods to advance fetal surgery, making a wider range of treatments possible. (Read on to watch video)
The news-clip features footage from the Fetal Medicine Unit at UCLH and research labs at UCL's Department of Medical Physics and Biomedical Engineering, and features interviews from Professor Sebastien Ourselin and Dr Anna David.
To read the full article visit the Al Jazeera website.
To learn more about the GIFT-Surg Project visit www.gift-surg.ac.uk.